8 TIPS AND IDEAS FOR RENOVATING A KITCHEN IN AN APARTMENT
As we move towards greater density in our capital cities, more of us are turning to apartment living. Along with older pre war purpose built residential buildings, the late 90s saw the start of a spate of factory and warehouse conversions, with kitchens that are now due for renewal. But before you dive into a renovation of this key part of your home, it's worth taking stock with a few expert tips.
WHY AM I HERE?
Considering what you want to achieve by renovating or updating your kitchen is sometimes overlooked by homeowners. Is this property your home or an investment? Is it large enough to entertain or is it your pied a terre or love nest? Understanding what you want to get out of a renovation will help set your style and budget – and get the outcome you're looking for.
DON'T MOVE, IMPROVE
Unlike a freestanding house, it's quite difficult and sometimes just impossible to move services in an apartment because of the impact it will have on other parts of the building. This generally means the kitchen will need to stay where it is. Often, it's best to stick with the same layout for services such as plumbing, gas and electrics for the same reason, although apartments with high ceilings can sometimes accommodate a change by concealing pipes in bulkheads.
GOING UP, AND DOWN
If you're planning a major overhaul of your kitchen, you or your trades will be transporting materials through the building. Check with your Body Corporate about what your obligations are in terms of keeping common spaces clear and clean. Ideally, you will have access to a service lift but investigate how you plan on moving materials around. If it's a difficult process, it could add to your costs.
TALK TO THE NEIGHBOURS
This is always a good idea, even if you're renovating a house, but it's critical in apartment blocks where everyone lives a little closer. Keep your neighbours abreast of noisy works, especially during the demolition phase, and try to be considerate of those working from home or on shift. Communicating your plans gives the neighbours the opportunity to make plans.
PLAN FOR OPEN USE
Kitchen design has changed a lot over the years, from basic U-shaped and galley kitchens to completely open plan options. We've even moved on from 90s open plan design, which was characterised by peninsular-style benches and raised counters to hide the mess. These days, the raised counter has been eliminated in favour of a more open style and to allow it to better integrate into the living and dining space.
MATERIAL WORLD
Because it will most likely be sitting within an open plan living space, treat the kitchen within the context of the whole room. That might mean integrating appliances such as the fridge, and using similar materials like laminate or engineered timber for the joinery that you can then continue into the living space. Details like door hardware and light fittings can also be used to link spaces and make them feel more generous.
STACK IT AND STORE IT
Apartment kitchens tend to be smaller than their freestanding counterparts, which means storage is always a major consideration. Use the entire space, right up to ceiling height and above the rangehood if applicable. Shallow shelving is particularly useful in kitchens, allowing you to easily see, as well as reach spices, sauces and cans. Make sure all your storage is highly functional and organised, with compartments in drawers, as well as cupboards.
KEEP IT SIMPLE, SWEETIE
Like the proverbial swan gliding across the lake, the overall appearance in an apartment kitchen should be streamlined and adaptable. Anything that will make a small space work harder, from a sink cover to extend bench space to a magnetic strip for storing kitchen knives should be considered, as long as it keeps the kitchen uncluttered.
Before you take the plunge, here's a few commonly asked questions to ensure that your apartment kitchen looks and functions at its best.
Can you change the location of the kitchen in an apartment?
Because it's part of a larger building, moving services like plumbing is particularly tricky in an apartment. With some clever design, sometimes pipes can be concealed inside cupboards or bulkheads but, for the most part, kitchens and bathrooms are fixed in apartments.
Do I need approval from strata to renovate my kitchen?
It depends on what you're doing. If your plans extend no further than repainting, changing cabinet doors and replacing benchtops, then you shouldn't need approval. But if you'd like to remove the wall between the kitchen and living room then, yes, you will need to seek permission. If you are looking at taking out a wall, expect to engage an engineer to ensure it will not affect other parts of the building.
What renovations add the most value in an apartment?
Just as it is for houses, a fresh coat of paint and updated kitchens and bathrooms will add the most value to your apartment when it comes time to sell. Having said that, buyers are often on the lookout for a shoddy job, so, if you have gone to the time, trouble and expense to renovate, get it done properly the first time.
MOST POPULAR
Consumers are going to gravitate toward applications powered by the buzzy new technology, analyst Michael Wolf predicts
Chris Dixon, a partner who led the charge, says he has a 'very long-term horizon'
10 Swimming Pool Designs To Beat The Heat
There's nothing more appealing than being able to cool off in your own pool on a hot summer's day. For many Australians, the idea of a backyard pool is enticing but with so many styles to choose from, the decision is not always straightforward. Considering your budget, the needs of your household, along with the size of your outdoor space is key to achieving the best outcome for delicious days poolside. We take a deep dive into the best in pools to get you into the swim.
CLASSIC RECTANGLE
Nothing beats this classic pool design. With the ability to cross styles of architecture from Hamptons to mid century modern and minimalist design, the rectangular pool is a 'one size fits all' style that adapts to most needs, from swimming laps to splashing about with the kids. Go as big as you can manage on acreage or shoehorn it onto a suburban block for a clean, classic look that's hard to top.
INFINITY POOL
A popular choice where there are views of the water or bushland to enjoy, an infinity pool gives the illusion of having no edge. Also known as rimless, overflow or zero edge pools, the water flows over the edge of the pool into a catchment basin that sits below the waterline, out of sight. A great choice for elevated positions where the pool can create a visual bridge between the house and the view, an infinity pool is particularly expensive to install and run thanks to the continuous need to pump water from the catch basin.
LAGOON OR FREE FORM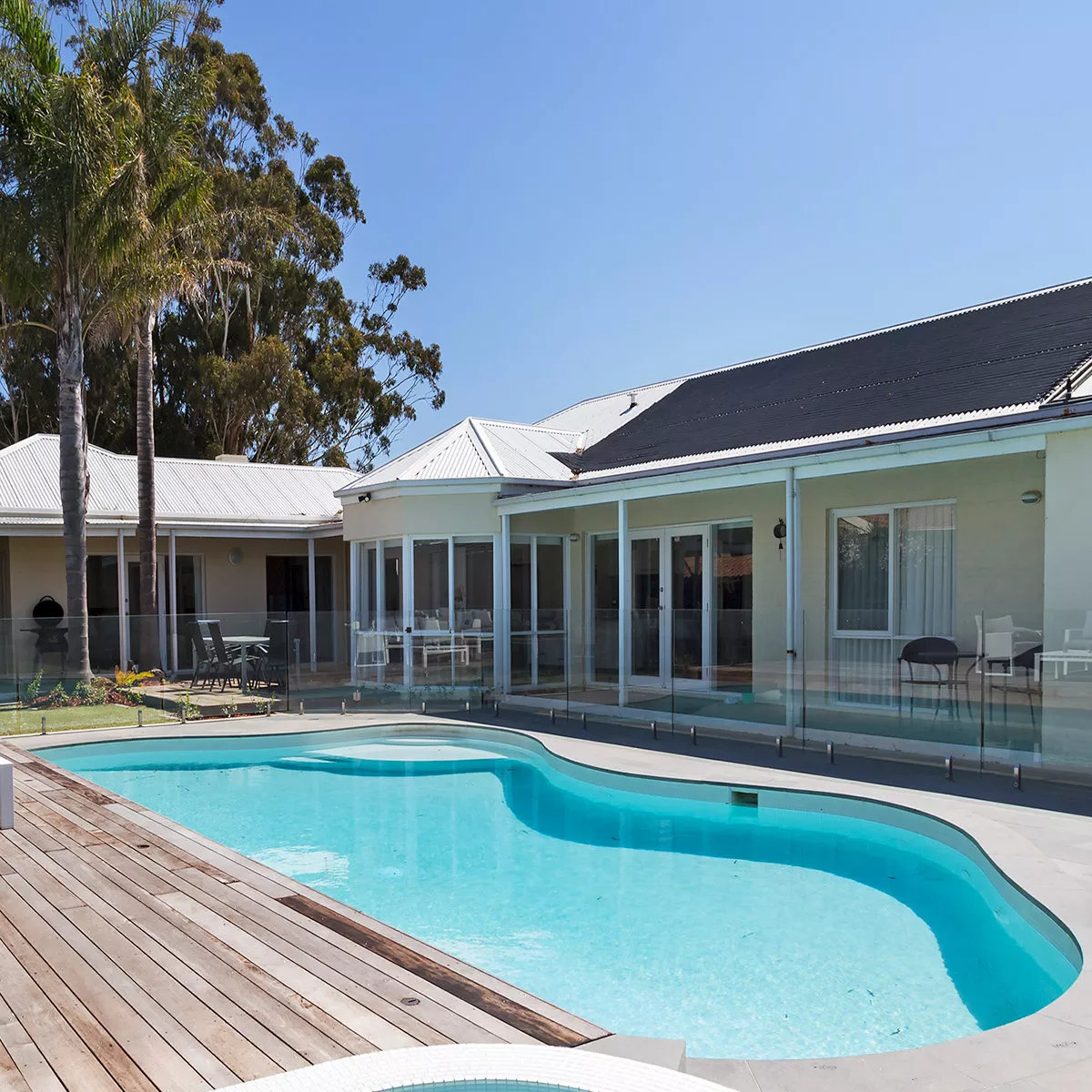 Designed to mimic the natural environment, lagoon or freeform pools have fallen out of favour since their heyday in the 1980s. Despite the name, they are often available in standard sizes in fibreglass or concrete and are characterised by their curved, asymmetrical shapes. Slides and waterfalls are popular accessories to this style of pool while landscaping is typically tropical, in keeping with the oasis-like environment.
LAP POOLS
While the name might suggest that this style of pool is aimed at hard core swimmers, lap pools are a great choice where the obvious location for the pool is long and narrow. If doing laps or water therapy is the main purpose for installing the pool, consider installing swim jets which create non-stop resistance to swim against. A lap pool should be at least eight to 10 metres long to be useful.
PLUNGE POOLS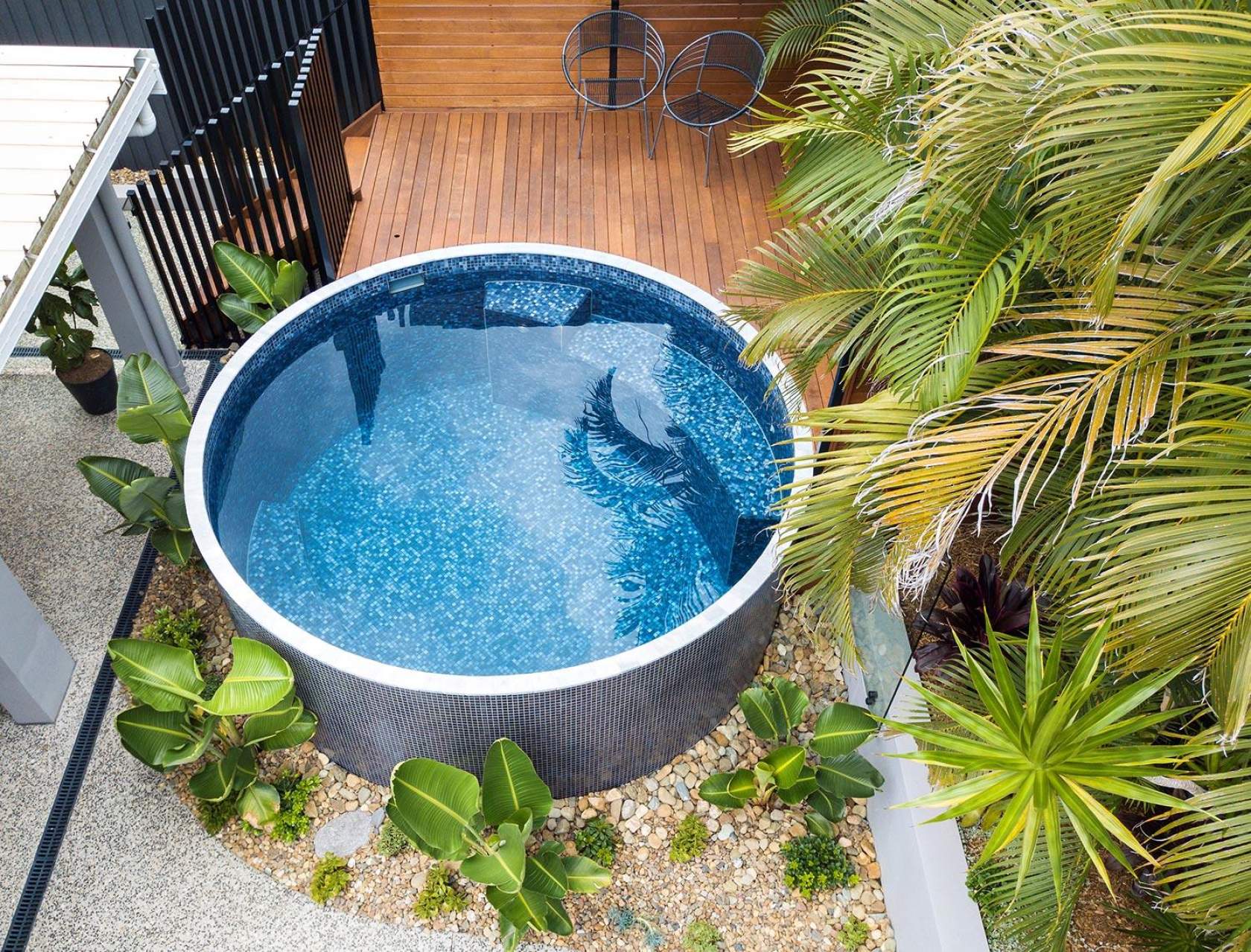 Nothing beats being able to cool off in your own backyard over summer and what plunge pools lack in space, they can make up for in amenity. While swimming is probably out of the question, plunge pools are generally easier and cheaper to maintain than their larger counterparts, making them an attractive option for heating and cooling. They also have the obvious advantage of being able to fit into most backyards.
SPOOLS (SPA POOLS)
Another great option where space is an issue, spa pools, also known as spools, offer the best of both worlds, with a spa area integrated into all or part of the pool. Known in some places as a cocktail pool, they can be a great solution for those who like to entertain or simply passively enjoy the water. Costs are generally a little less than a conventional pool and more than a dedicated spa.
PERIMETER OVERFLOW POOLS
For those who love the integrated look, perimeter overflow pools are a stylish choice. Designed in line with the edge of the deck, the water gives the impression of overflowing at all edges for a sleek, minimalist look. Water is captured and recycled in channels around the perimeter. Available in a variety of shapes and sizes, this style of pool can be pricey to install and run. For level sites though, it's the ultimate in swimming luxury.
NATURAL POOLS
While conventional pools are kept clean through the use of chemicals such as chlorine, natural pools rely on moving water (via a pump) and biological filters such as plants to maintain good water quality. It's a style gaining ground in Australia, where water quality is naturally quite high, making the move to natural pools easier, and more homeowners become interested in chemical-free options.
ABOVE GROUND POOLS
The great advantage of this style of pool is that excavation is often minimal, which means less disruption – and less cost. Strictly speaking, there's any number of materials available for construction, including fibreglass and concrete, but the above ground pool is probably most often associated with the old-school modular pool with liner from the likes of Clark Rubber.
GLASS WALLED POOLS
If you're looking to add a little drama to your home, a glass walled pool could fit the bill. Essentially an underwater 'window' in recent years, architects have specified glass walled pools to be viewed from inside the house, with the benefit of drawing natural light through the water into internal spaces. An engineer will specify the exact thickness required to take the weight of the water but expect it to be at least 12mm thick.
What is the best type of swimming pool to build?
The type of pool you choose will depend on your budget and the size and style of your yard. Fibreglass pools come in a range of shapes and sizes and are faster and easier to install than concrete, mainly because they are made on the factory floor and delivered to site. Concrete pools take longer to build but they are customisable and can be finished in high end materials. Often, the decision can get down to how long you intend to stay in your property in terms of how much you want to invest.
What is the most expensive part of a pool?
If you're talking about construction, excavation is often the big cost that takes owners by surprise. Make sure you understand excavation and tipping costs before signing a contract. Filtration, decking, tiling, fencing and landscaping can all add significant cost to the construction and installation of a pool. In terms of running costs, solar energy can be a good way to offset expenses.
What is a good size for a home swimming pool?
Again, this will depend on the size of your outdoor space, your lifestyle and the people who will use your pool. A family of four will have different needs to a couple who prefer to enjoy a dip at the end of a hot day. Choose a size that allows everyone to move around freely while keeping in mind that the larger the pool, the greater the time and money required to maintain it. Pool sizes in Australia have shrunk in recent years but popular sizes for family pools range from 7m by 3m up to 9m by 4m. Speak to your pool builder about the best – and safest – depth for your needs.
MOST POPULAR
Consumers are going to gravitate toward applications powered by the buzzy new technology, analyst Michael Wolf predicts
Chris Dixon, a partner who led the charge, says he has a 'very long-term horizon'