INTERVIEW: MONIKA TU, Founder / Director Black Diamondz Group
Where her Chinese-focused business is headed given ongoing COVID constraints.
Monika Tu doesn't mince words. Nor does she carry any passengers.
How else to explain what is now a rather well-worn tale – a story, hers, that details a Chinese immigrant who landed in Australia from Shenzhen in 1988 without any English.
She studied, claimed an RMIT scholarship and subsequently turned a basic market stall into a successful international electronics business. She's since found incredible acclaim — and arguable dominance — as a property agent within Sydney's tightly-held prestige property market.
There's more to her work than simply opening residential doors — helping to forge and foster cultural and community links for her largely immigrant (predominantly from China, Middle East, Europe) client list, alongside arts philanthropy and an unwavering dedication to each and every day.
We caught up with Tu to discuss the difficulties of 2021 — and to better understand the road ahead.
Kanebridge News: There's an incredible resilience that seems to frame the Sydney prestige market – but how difficult was 2020 in regards to your business and key clients?
Monika Tu: Obviously, Covid-19 had huge impacts on many businesses last year and ours was no exception. The restrictions on international travel hit us hard, however, we saw a surprising rise in local Chinese buyers wanting to buy a property quickly.  People may think that most of our buyers are international. However, that's not the case and many of these people had been holding out for the 'perfect' property — but when Covid hit they relaxed their expectations slightly because their main aim was to secure a property.
KN: And how do you view the road ahead?
MT: I see the market continuing to do well. The prestige market will always follow a different trajectory to the general market, but I don't see things slowing down.  With the influx of movie stars and wealthy individuals wanting to call Australia home, there's only one way prestige property is going, and it's up.
KN: There's a belief in some economic quarters that things must naturally end, and soon.
MT: People have always said this, even prior to the pandemic. But Sydney and Australia's prestige property market is robust, resilient, and has proven itself repeatedly.  As long as Australia is seen as a world-class lifestyle destination, people will always be willing to pay.
KN: What was the allure of property that made you start Black Diamondz?
MT: If I'm honest, it wasn't so much the allure of property that made me start Black Diamondz. It was the gap in the market of servicing the multitude of high net-worth individuals, predominantly from China, who were looking to call Australia home. Some agents were more than capable of finding them a great property but could not open other doors such as schools, lifestyle, business opportunities, networking, and philanthropy.  This is the gap that I knew I was able to fill.
KN: How did you get your start in the prestige market?
MT: Black Diamondz really started by chance.  There were a lot of conversations at the dinner table about new migrants searching for luxury homes, but a lack of services or guidance for them when it came to making decisions.  One of my friends had a friend from China looking for a property and was having no luck with local real estate agents. I took him for a drive around Sydney's Eastern Suburbs and just asked him what type of house he liked. He picked one, I knocked on the door and the owners said it was not for sale. Fast forward five days later and they sold it for $13.5 million. That is when I realised the need for this type of service was out there and took full advantage.
KN: Does the size of the deal you're working to close ever intimidate, or is it something that drives you?
MT: For me it's never about the size of the deal. I treat a $5 million apartment with the same work ethic that I treat a $50 million home. For me it's all about giving my clients, both buyers and sellers, the very best experience possible.
I love smashing records, like selling Sydney's most expensive home in 2019, but those things don't happen every day and if that's what drives you, you won't last long in real estate.
KN: What do you think gives Black Diamondz a competitive edge?
MT: On the surface, it's our proven ability to achieve consistent, market-leading results over the past ten years, as well as our international database. But deeper than that is our standing within the community. I know almost everyone in Sydney, and I have nurtured these relationships over the years. This is the key to a successful real estate business — your network and influence.
KN: You're a self-confessed workaholic, is that a necessary mindset to achieved success especially in the market you work?
MT: I think the entrepreneurial mindset I have is what has made me successful — not only in real estate but in life. I never stop working but I also don't see it as work, it's my life and it's what I do day in, day out.
MOST POPULAR
Consumers are going to gravitate toward applications powered by the buzzy new technology, analyst Michael Wolf predicts
Chris Dixon, a partner who led the charge, says he has a 'very long-term horizon'
10 Swimming Pool Designs To Beat The Heat
There's nothing more appealing than being able to cool off in your own pool on a hot summer's day. For many Australians, the idea of a backyard pool is enticing but with so many styles to choose from, the decision is not always straightforward. Considering your budget, the needs of your household, along with the size of your outdoor space is key to achieving the best outcome for delicious days poolside. We take a deep dive into the best in pools to get you into the swim.
CLASSIC RECTANGLE
Nothing beats this classic pool design. With the ability to cross styles of architecture from Hamptons to mid century modern and minimalist design, the rectangular pool is a 'one size fits all' style that adapts to most needs, from swimming laps to splashing about with the kids. Go as big as you can manage on acreage or shoehorn it onto a suburban block for a clean, classic look that's hard to top.
INFINITY POOL
A popular choice where there are views of the water or bushland to enjoy, an infinity pool gives the illusion of having no edge. Also known as rimless, overflow or zero edge pools, the water flows over the edge of the pool into a catchment basin that sits below the waterline, out of sight. A great choice for elevated positions where the pool can create a visual bridge between the house and the view, an infinity pool is particularly expensive to install and run thanks to the continuous need to pump water from the catch basin.
LAGOON OR FREE FORM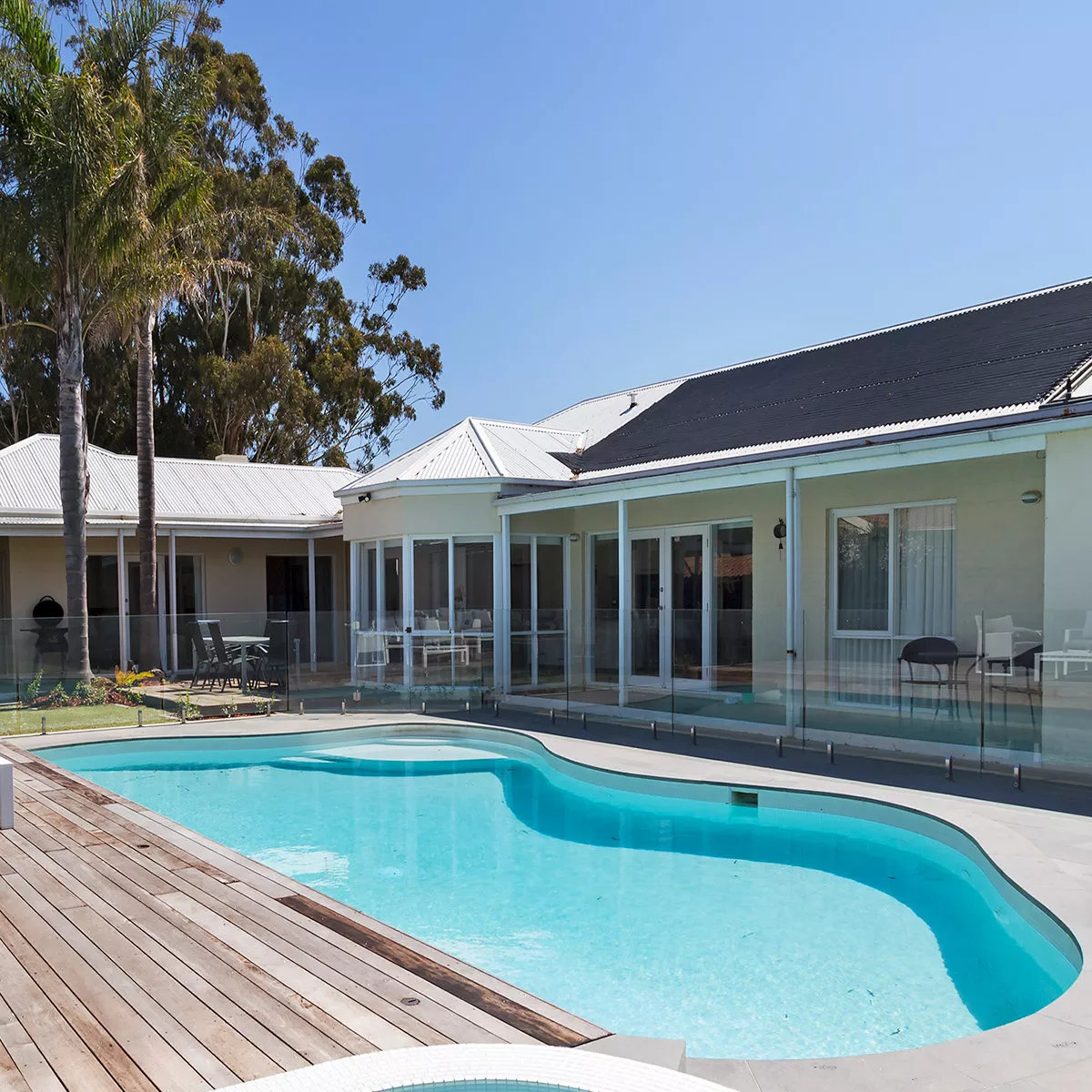 Designed to mimic the natural environment, lagoon or freeform pools have fallen out of favour since their heyday in the 1980s. Despite the name, they are often available in standard sizes in fibreglass or concrete and are characterised by their curved, asymmetrical shapes. Slides and waterfalls are popular accessories to this style of pool while landscaping is typically tropical, in keeping with the oasis-like environment.
LAP POOLS
While the name might suggest that this style of pool is aimed at hard core swimmers, lap pools are a great choice where the obvious location for the pool is long and narrow. If doing laps or water therapy is the main purpose for installing the pool, consider installing swim jets which create non-stop resistance to swim against. A lap pool should be at least eight to 10 metres long to be useful.
PLUNGE POOLS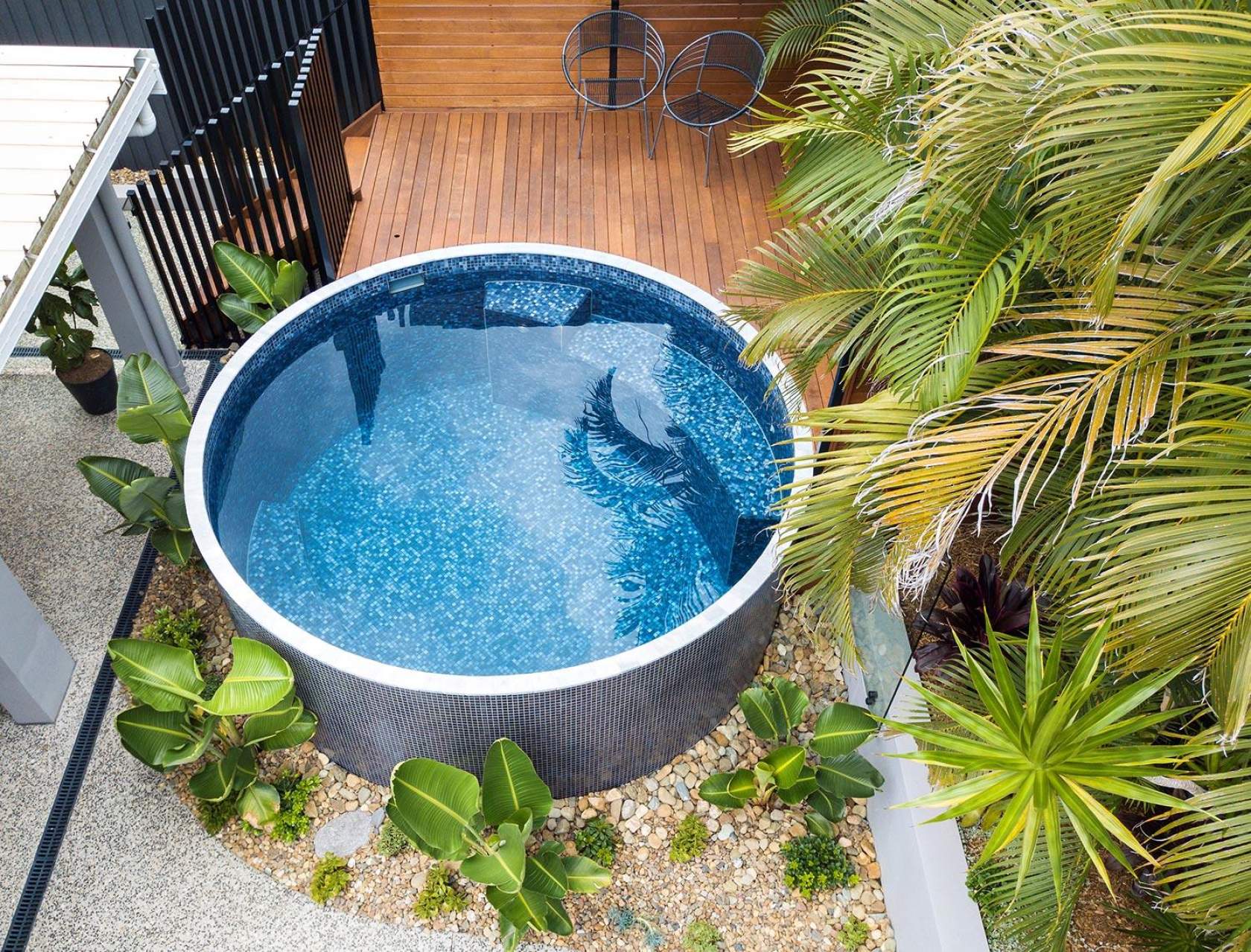 Nothing beats being able to cool off in your own backyard over summer and what plunge pools lack in space, they can make up for in amenity. While swimming is probably out of the question, plunge pools are generally easier and cheaper to maintain than their larger counterparts, making them an attractive option for heating and cooling. They also have the obvious advantage of being able to fit into most backyards.
SPOOLS (SPA POOLS)
Another great option where space is an issue, spa pools, also known as spools, offer the best of both worlds, with a spa area integrated into all or part of the pool. Known in some places as a cocktail pool, they can be a great solution for those who like to entertain or simply passively enjoy the water. Costs are generally a little less than a conventional pool and more than a dedicated spa.
PERIMETER OVERFLOW POOLS
For those who love the integrated look, perimeter overflow pools are a stylish choice. Designed in line with the edge of the deck, the water gives the impression of overflowing at all edges for a sleek, minimalist look. Water is captured and recycled in channels around the perimeter. Available in a variety of shapes and sizes, this style of pool can be pricey to install and run. For level sites though, it's the ultimate in swimming luxury.
NATURAL POOLS
While conventional pools are kept clean through the use of chemicals such as chlorine, natural pools rely on moving water (via a pump) and biological filters such as plants to maintain good water quality. It's a style gaining ground in Australia, where water quality is naturally quite high, making the move to natural pools easier, and more homeowners become interested in chemical-free options.
ABOVE GROUND POOLS
The great advantage of this style of pool is that excavation is often minimal, which means less disruption – and less cost. Strictly speaking, there's any number of materials available for construction, including fibreglass and concrete, but the above ground pool is probably most often associated with the old-school modular pool with liner from the likes of Clark Rubber.
GLASS WALLED POOLS
If you're looking to add a little drama to your home, a glass walled pool could fit the bill. Essentially an underwater 'window' in recent years, architects have specified glass walled pools to be viewed from inside the house, with the benefit of drawing natural light through the water into internal spaces. An engineer will specify the exact thickness required to take the weight of the water but expect it to be at least 12mm thick.
What is the best type of swimming pool to build?
The type of pool you choose will depend on your budget and the size and style of your yard. Fibreglass pools come in a range of shapes and sizes and are faster and easier to install than concrete, mainly because they are made on the factory floor and delivered to site. Concrete pools take longer to build but they are customisable and can be finished in high end materials. Often, the decision can get down to how long you intend to stay in your property in terms of how much you want to invest.
What is the most expensive part of a pool?
If you're talking about construction, excavation is often the big cost that takes owners by surprise. Make sure you understand excavation and tipping costs before signing a contract. Filtration, decking, tiling, fencing and landscaping can all add significant cost to the construction and installation of a pool. In terms of running costs, solar energy can be a good way to offset expenses.
What is a good size for a home swimming pool?
Again, this will depend on the size of your outdoor space, your lifestyle and the people who will use your pool. A family of four will have different needs to a couple who prefer to enjoy a dip at the end of a hot day. Choose a size that allows everyone to move around freely while keeping in mind that the larger the pool, the greater the time and money required to maintain it. Pool sizes in Australia have shrunk in recent years but popular sizes for family pools range from 7m by 3m up to 9m by 4m. Speak to your pool builder about the best – and safest – depth for your needs.
MOST POPULAR
Consumers are going to gravitate toward applications powered by the buzzy new technology, analyst Michael Wolf predicts
Chris Dixon, a partner who led the charge, says he has a 'very long-term horizon'