Eight Smart Home Must-Haves
These are the smartest bits of tech for your home.
Smart domestic features increasingly inform luxury living. And where once this didn't move past a robotic vacuum or some sensor lights, the ultimate modern home should be stacked with technology that ultimately makes for an elevated daily experience.
Here, eight absolute must-haves.
Savant Pro
Allows for the control of all smart home gadgetry under one system – think lighting, sound, TV, climate control, blinds and more. Video tiling and the TrueControl app allow you to add up to 9 things to a single screen – including from various streaming services – giving you complete control over your entertainment, while. the system also allows you to program 'scenes' to be set, which can lock doors, turn off light and engage security cameras from the touch of an Apple watch.
POA; savant.com
Offmat Tulèr Responsive Kitchen
The world's first responsive kitchen bench, Tulèr weighs, cooks and washes through gesture controls and touch surfaces enabled by a system of state-of-the-art sensors. You'll feel like a domestic sorcerer as you magically wave at the workspace to open drawers, commence induction cooking, make the kitchen sink appear and disappear and activate built-in countertop scales – which displays weight via a built in light or chosen device.
POA; tipic.it
Embrace Smart Mirror
Believe it or not, 'splash-proof' isn't even the main selling point here, this so-called 'smart mirror' making for easy living with in-built voice command, gesture and touch screen capabilities. This allows a user to work with Google assistant, send emails, skype or video chat with friends, control the lights or play music while getting ready. Or, watch shaving tutorials and more through the 23-inch touchscreen display.
Approx. $1390; embracesmartmirror.com
Ecobee Smart Thermostat With Voice Control
Once connected to an air-conditioner, this thermostat learns and adapts to an occupant's schedule to deliver comfortable temperatures at all times. Make adjustments via voice control, set timers and schedules and also regulate humidity (if connected to a humidifier).
Approx. $346; ecobee.com
LG's CX OLED TV
Arguably the smartest TV in market, LG's CX OLED leads the pack with its webOS technology. The user interface is built around launch bar for apps, inputs and features – which like a computer is customisable. You can Miracast images from your smartphone, screen share and use voice commands through LG's own AI platform, or trust favourites like Amazon Alexa and Google Assistant. To help keep the image crisp, Dolby Vision IQ automatically adjusts the picture depending on the ambient light in the room.
$4295; lg.com
Vivint Home Security & Bit Defender Box
Vivint has built a reputation as the go-to for smart home security. With a range of customisable packages, Vivint offers smart sensors (for doors and windows), smart locks (to control remotely), doorbell cameras, outdoor cameras and more all controllable via a single app. You can set the outdoor cameras to record someone's approach and view them via your smartphone. Physical threats aside, hackers are increasingly breaching smart home technologies. Enter the BitBox Defender, which monitors every device connected to a residence's network and alerts to any threats by smartphone.
POA; Vivint.com / $149; bitdefender.com
Wi-Charge R1 Wireless Charger
More gadgetry means a greater need to charge. Here, Wi-Charge and its R1 ultra-compact chargers create wireless charging from any power or light socket. With accuracy of 9 metres, it projects infrared beams across the room charging a given device without a second thought.
Coming soon; wi-charge.com
U by Moen Smart Faucet
This, tap, as we would say, offers temperature-controlled water accessible through Google Assistant and Amazon Alexa. It remembers favourite temperatures and reacts to conversational requests like 'a little warmer'. Beyond temperature control, the U by Moen can also disperse water in specific quantities, handy for when cooking and you need exactly 150ml. Offered in a wide variety of styles to cover most kitchen designs.
Approx. $620; moen.com
MOST POPULAR
Consumers are going to gravitate toward applications powered by the buzzy new technology, analyst Michael Wolf predicts
Chris Dixon, a partner who led the charge, says he has a 'very long-term horizon'
10 Swimming Pool Designs To Beat The Heat
There's nothing more appealing than being able to cool off in your own pool on a hot summer's day. For many Australians, the idea of a backyard pool is enticing but with so many styles to choose from, the decision is not always straightforward. Considering your budget, the needs of your household, along with the size of your outdoor space is key to achieving the best outcome for delicious days poolside. We take a deep dive into the best in pools to get you into the swim.
CLASSIC RECTANGLE
Nothing beats this classic pool design. With the ability to cross styles of architecture from Hamptons to mid century modern and minimalist design, the rectangular pool is a 'one size fits all' style that adapts to most needs, from swimming laps to splashing about with the kids. Go as big as you can manage on acreage or shoehorn it onto a suburban block for a clean, classic look that's hard to top.
INFINITY POOL
A popular choice where there are views of the water or bushland to enjoy, an infinity pool gives the illusion of having no edge. Also known as rimless, overflow or zero edge pools, the water flows over the edge of the pool into a catchment basin that sits below the waterline, out of sight. A great choice for elevated positions where the pool can create a visual bridge between the house and the view, an infinity pool is particularly expensive to install and run thanks to the continuous need to pump water from the catch basin.
LAGOON OR FREE FORM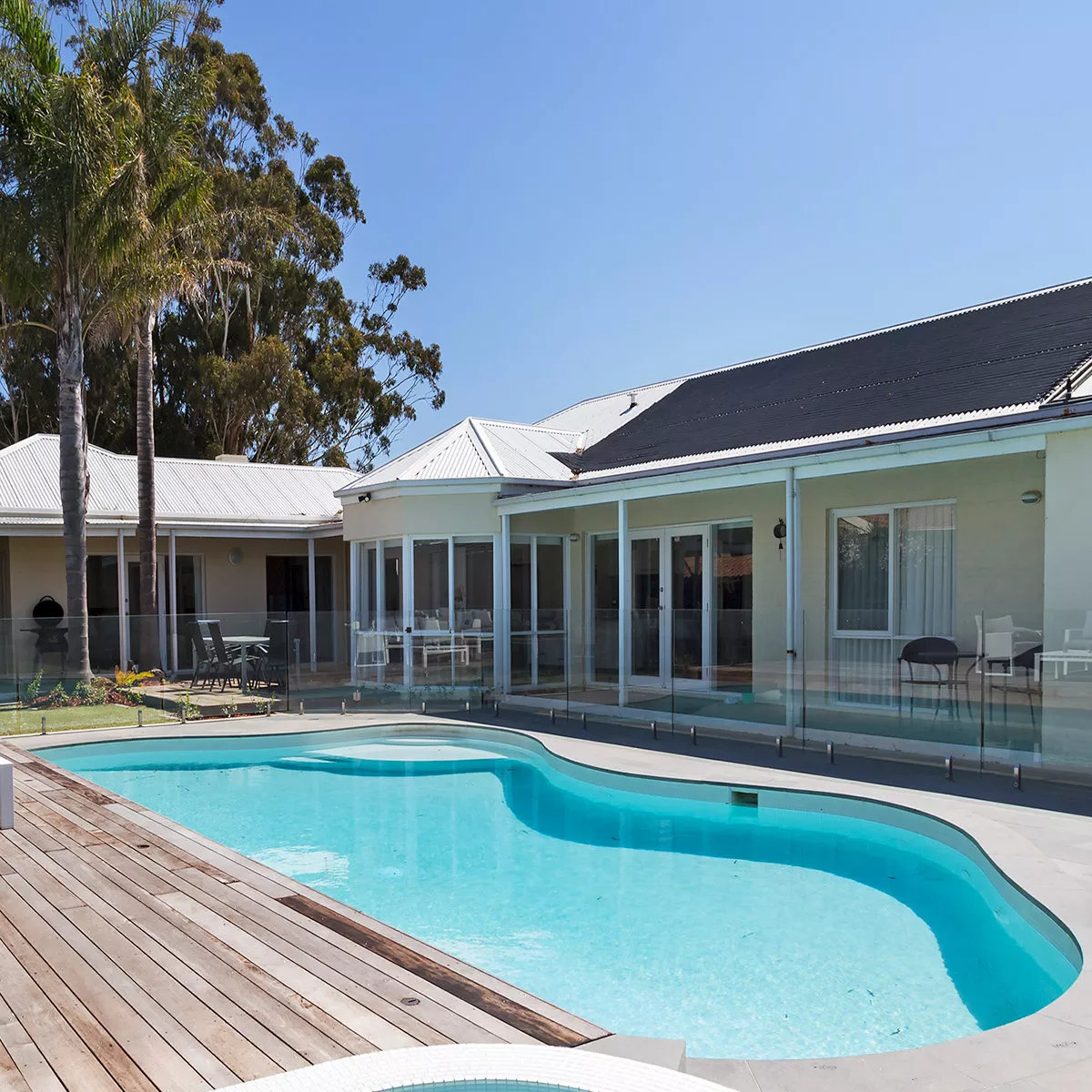 Designed to mimic the natural environment, lagoon or freeform pools have fallen out of favour since their heyday in the 1980s. Despite the name, they are often available in standard sizes in fibreglass or concrete and are characterised by their curved, asymmetrical shapes. Slides and waterfalls are popular accessories to this style of pool while landscaping is typically tropical, in keeping with the oasis-like environment.
LAP POOLS
While the name might suggest that this style of pool is aimed at hard core swimmers, lap pools are a great choice where the obvious location for the pool is long and narrow. If doing laps or water therapy is the main purpose for installing the pool, consider installing swim jets which create non-stop resistance to swim against. A lap pool should be at least eight to 10 metres long to be useful.
PLUNGE POOLS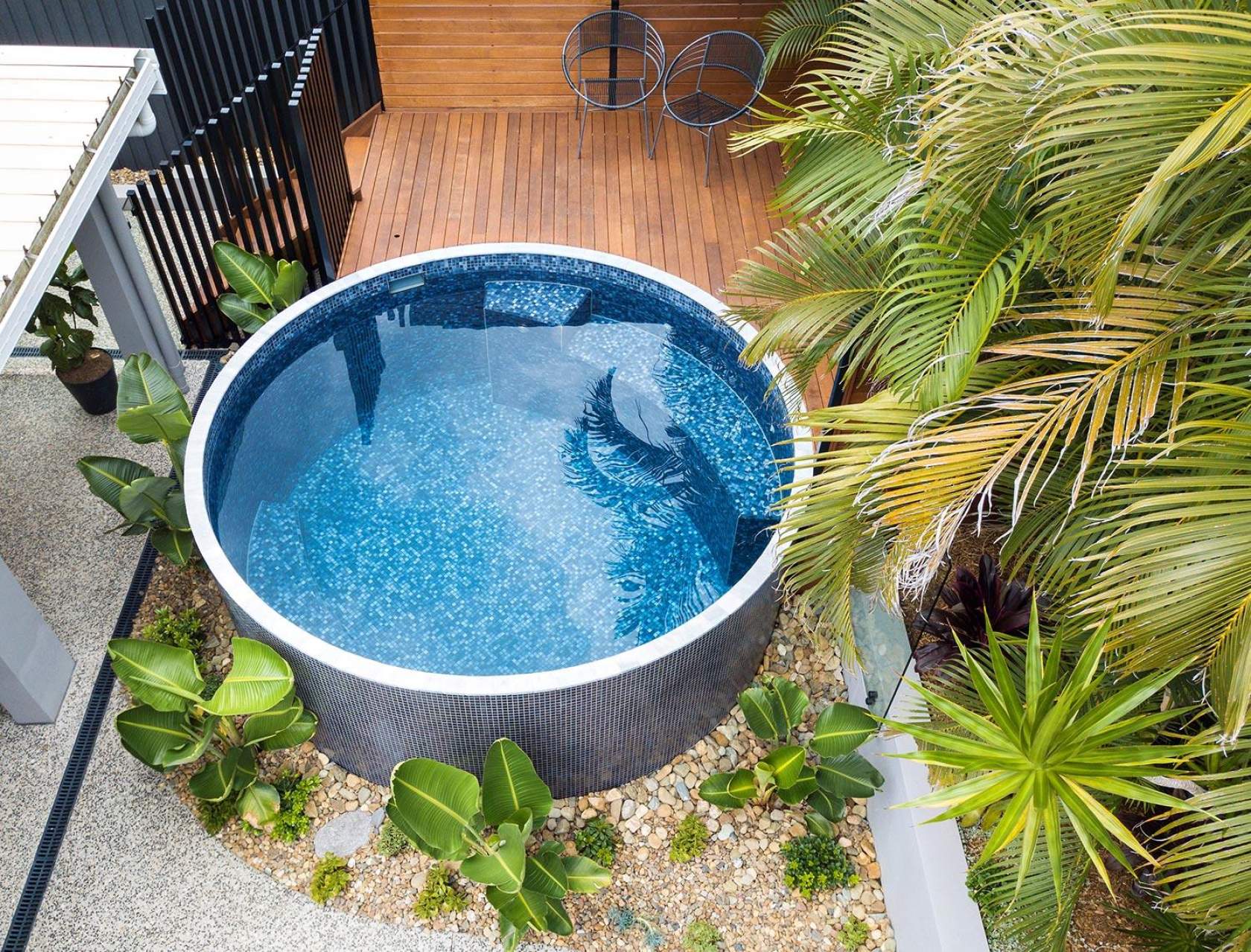 Nothing beats being able to cool off in your own backyard over summer and what plunge pools lack in space, they can make up for in amenity. While swimming is probably out of the question, plunge pools are generally easier and cheaper to maintain than their larger counterparts, making them an attractive option for heating and cooling. They also have the obvious advantage of being able to fit into most backyards.
SPOOLS (SPA POOLS)
Another great option where space is an issue, spa pools, also known as spools, offer the best of both worlds, with a spa area integrated into all or part of the pool. Known in some places as a cocktail pool, they can be a great solution for those who like to entertain or simply passively enjoy the water. Costs are generally a little less than a conventional pool and more than a dedicated spa.
PERIMETER OVERFLOW POOLS
For those who love the integrated look, perimeter overflow pools are a stylish choice. Designed in line with the edge of the deck, the water gives the impression of overflowing at all edges for a sleek, minimalist look. Water is captured and recycled in channels around the perimeter. Available in a variety of shapes and sizes, this style of pool can be pricey to install and run. For level sites though, it's the ultimate in swimming luxury.
NATURAL POOLS
While conventional pools are kept clean through the use of chemicals such as chlorine, natural pools rely on moving water (via a pump) and biological filters such as plants to maintain good water quality. It's a style gaining ground in Australia, where water quality is naturally quite high, making the move to natural pools easier, and more homeowners become interested in chemical-free options.
ABOVE GROUND POOLS
The great advantage of this style of pool is that excavation is often minimal, which means less disruption – and less cost. Strictly speaking, there's any number of materials available for construction, including fibreglass and concrete, but the above ground pool is probably most often associated with the old-school modular pool with liner from the likes of Clark Rubber.
GLASS WALLED POOLS
If you're looking to add a little drama to your home, a glass walled pool could fit the bill. Essentially an underwater 'window' in recent years, architects have specified glass walled pools to be viewed from inside the house, with the benefit of drawing natural light through the water into internal spaces. An engineer will specify the exact thickness required to take the weight of the water but expect it to be at least 12mm thick.
What is the best type of swimming pool to build?
The type of pool you choose will depend on your budget and the size and style of your yard. Fibreglass pools come in a range of shapes and sizes and are faster and easier to install than concrete, mainly because they are made on the factory floor and delivered to site. Concrete pools take longer to build but they are customisable and can be finished in high end materials. Often, the decision can get down to how long you intend to stay in your property in terms of how much you want to invest.
What is the most expensive part of a pool?
If you're talking about construction, excavation is often the big cost that takes owners by surprise. Make sure you understand excavation and tipping costs before signing a contract. Filtration, decking, tiling, fencing and landscaping can all add significant cost to the construction and installation of a pool. In terms of running costs, solar energy can be a good way to offset expenses.
What is a good size for a home swimming pool?
Again, this will depend on the size of your outdoor space, your lifestyle and the people who will use your pool. A family of four will have different needs to a couple who prefer to enjoy a dip at the end of a hot day. Choose a size that allows everyone to move around freely while keeping in mind that the larger the pool, the greater the time and money required to maintain it. Pool sizes in Australia have shrunk in recent years but popular sizes for family pools range from 7m by 3m up to 9m by 4m. Speak to your pool builder about the best – and safest – depth for your needs.
MOST POPULAR
Consumers are going to gravitate toward applications powered by the buzzy new technology, analyst Michael Wolf predicts
Chris Dixon, a partner who led the charge, says he has a 'very long-term horizon'
Related Stories