Property — A Reliable Asset In Uncertain Times?
How far will property prices fall in the next 12 months?
OPINION
Amidst a war in Eastern Europe, our central bank is grappling with the impacts of a rising cost of living, a severe energy crisis (not experienced since the 1970s), official inflation hitting 3.5%, and lastly, COVID-19 and its variant accomplices. This is not to mention the constant heartaches inflicted by fires and floods over the past three years and their financial implications on the economy.
The uncertainties bring to light a host of questions. How will this impact everyday Australians? What will be the effect on interest rates, property prices and the general economy?
The RBA Governor's message to mortgage holders last Friday 10 March 2022 has been much more sobering than previous statements – "Mortgage Holders should start preparing for interest rate increases."  In our view, we had been lulled into a false sense of security that low-interest rates were here to stay, at least until 2024. However, the financial markets are now factoring up to 5 increases this year alone, with more to follow in 2023. The experts predict increases in official cash rates totalling 1.5% between now and Christmas next year. The first of these increases will be the first increase in official cash rates since November 2010.
Even the most optimistic property pundits understand that rate hikes will challenge future price appreciation and signal an inflexion point leading to property prices falling. Moreover, these anticipated rate increases will have broader ramifications on other asset prices and the wider economy.
The Federal Government and the RBA are trying to balance on a precarious tightrope as they gradually taper economic support and raise interest rates, whilst not beating the economy into a recession.
Despite these significant economic challenges, especially the inevitable withdrawal of free money, Australia is once again better-equipped than its international peers in dealing with these challenges, with Australia's mineral-rich economy being a benefactor of high energy prices. This advantage in selling minerals also acts as an inflation hedge in a world of rising prices. In addition, having immigration as part of our export mix effectively cushions the economy and limits labour constraints, while improving our national GDP figures and fending off stagflation fears.
I guess the million-dollar question (or more like, the $1.6 million question in Sydney – or $1.1 million question in Melbourne) is "How far will property prices fall over the next 12 months?"
As Albert Einstein once said, "If you want to know the future, you need to look into the past".
On 6 March 2019, the RBA Governor presented at the AFR business summit. As can be seen in the graph below, the benefit of hindsight lays out the foundation and justifications for future rate reductions for the sole reason of increasing property prices. Looking at the benefits of property price appreciation, a 10% increase in property prices would increase consumer spending by circa 1.5% (Keynesian Wealth effect) to give the economy some additional stimulus.
It is essential to note this was all whilst property prices took an 18% hit in 2018 – it was not due to a lack of demand; it was induced by APRA's intervention combined with the Banking Royal Commission which restricted bank finance and the flow of capital to buy property.
It was not too long after these events that interest rates began to decrease from the 1.5% official cash rate, with the RBA Governor uttering one of the most important quotes in regards to property prices. He believed that property prices could go up as high as 30% without being a risk to the general economy.
Remember, this was during a time when most property economists believed property prices would fall between 20%-30%.
Indeed, since this statement, property prices have increased by 30% over the 18 months, nationally.
How did he get the property prediction so accurate?
As I have written in my previous articles, the most effective property modelling conducted in Australia has been commissioned by the RBA itself – a joint paper by Trent Saunders and Peter Tulip titled, 'A model of the Australian Housing Market'.
The paper outlines the key drivers of property prices – no surprise, it had reaffirmed the RBA's property price prediction that with a 1% drop in interest rates, property prices would rise by 30%.
It would be easy to conclude, with the RBA's admission that interest rates will go up between 1% and 1.5% over the next two years, that the property gains over the past few years can be equally reversed; that is, a rational conclusion would be that property prices would fall back to the levels seen in 2018, where the cash rate was sitting at 1.5% – but the reverse is not automatically true in this case.
The model also outlines other contributing factors: changes in income, unemployment, population growth, housing stock and rental vacancy.
Upon looking closely at all these elements, we believe that despite rising interest rates placing downward pressure on property prices, all other factors are positive for the property market and this may limit the downside. As inflation expectations are increasing, wage inflation will increase from its present level of 2.3%. The other significant metrics to note are that unemployment is at record lows, immigration will increase even more significantly than its pre-COVID-19 level, we are still not building enough dwellings to meet demand and rental vacancies are trending in the right direction and are now higher than pre-COVID-19 levels.
We believe that property prices will fall once the cash rate increases by up to 1.5% over the next 12-18 months. Importantly, we believe falls will be modest – between 10% to 15% – due to the other aforementioned factors moving in favourable directions. If the Reserve Bank needs to raise rates above 1.5% over the next 24 months, we may be looking at a credit crunch with more severe property price declines. Hence, we believe the RBA will be more cautious than the financial market is anticipating.
However, this is useful in examining property prices on an aggregate level. It is also essential to look more closely at a micro-level; we envisage a divergence in property prices across different geographical regions, different property classes, and specific trends that impact property.
Regional Property
Perhaps one of the biggest surprises that has emerged during the pandemic has been the stellar performance by the regional property market — inspired by the combination of low-interest rates and COVID-19, cohorts were encouraged to try the tree and sea lifestyle, despite the backdrop of zero net migration.
For those who can afford a second home, this change can be sustained; however, the reality is that the work-from-home phenomena will eventually run its course, and health, education and work options are much more plentiful in the cities. Thus, we believe people will move back to the cities and reverse some of this trend in the coming 24 months.
Sydney, Melbourne and Brisbane
However, despite Queensland being a star outperformer on the internal migration front (7,035 net migration just in Q4 2021), with Brisbane being the most affordable city on the eastern seaboard, we believe the rise in Queensland property prices will not outperform those of NSW and Victoria. This is because Queensland, especially Brisbane, can quickly deliver sufficient supply to meet demand; credit for this can be given to Queensland having a much quicker planning process and being less constrained with land, allowing developers to meet market demand and quickly keep prices affordable.
Units Versus Houses
The price gap between units and houses has never been wider. As affordability becomes more realistic, we believe units will be the feasible alternative. There is a significant shortage of larger, luxury apartments suitable for young families and empty nesters. Property developers are focusing their attention on creating a more suitable product catered for this market, which may lead to a psychological shift in property preferences in the future.
—
Paul Miron has more than 20 years experience in banking and commercial finance. After rising to senior positions for various Big Four banks, he started his own financial services business in 2004.
MOST POPULAR
Consumers are going to gravitate toward applications powered by the buzzy new technology, analyst Michael Wolf predicts
Chris Dixon, a partner who led the charge, says he has a 'very long-term horizon'
10 Swimming Pool Designs To Beat The Heat
There's nothing more appealing than being able to cool off in your own pool on a hot summer's day. For many Australians, the idea of a backyard pool is enticing but with so many styles to choose from, the decision is not always straightforward. Considering your budget, the needs of your household, along with the size of your outdoor space is key to achieving the best outcome for delicious days poolside. We take a deep dive into the best in pools to get you into the swim.
CLASSIC RECTANGLE
Nothing beats this classic pool design. With the ability to cross styles of architecture from Hamptons to mid century modern and minimalist design, the rectangular pool is a 'one size fits all' style that adapts to most needs, from swimming laps to splashing about with the kids. Go as big as you can manage on acreage or shoehorn it onto a suburban block for a clean, classic look that's hard to top.
INFINITY POOL
A popular choice where there are views of the water or bushland to enjoy, an infinity pool gives the illusion of having no edge. Also known as rimless, overflow or zero edge pools, the water flows over the edge of the pool into a catchment basin that sits below the waterline, out of sight. A great choice for elevated positions where the pool can create a visual bridge between the house and the view, an infinity pool is particularly expensive to install and run thanks to the continuous need to pump water from the catch basin.
LAGOON OR FREE FORM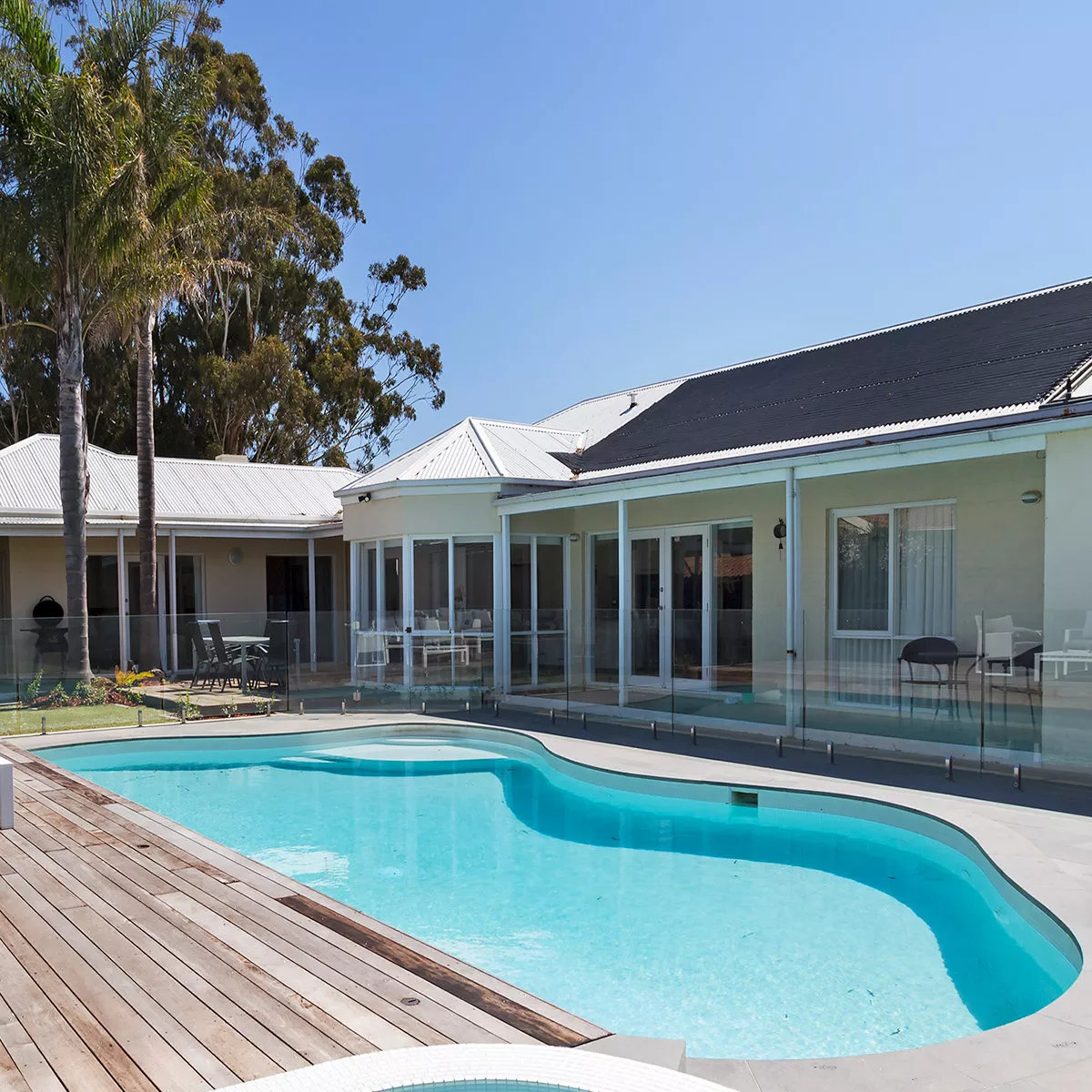 Designed to mimic the natural environment, lagoon or freeform pools have fallen out of favour since their heyday in the 1980s. Despite the name, they are often available in standard sizes in fibreglass or concrete and are characterised by their curved, asymmetrical shapes. Slides and waterfalls are popular accessories to this style of pool while landscaping is typically tropical, in keeping with the oasis-like environment.
LAP POOLS
While the name might suggest that this style of pool is aimed at hard core swimmers, lap pools are a great choice where the obvious location for the pool is long and narrow. If doing laps or water therapy is the main purpose for installing the pool, consider installing swim jets which create non-stop resistance to swim against. A lap pool should be at least eight to 10 metres long to be useful.
PLUNGE POOLS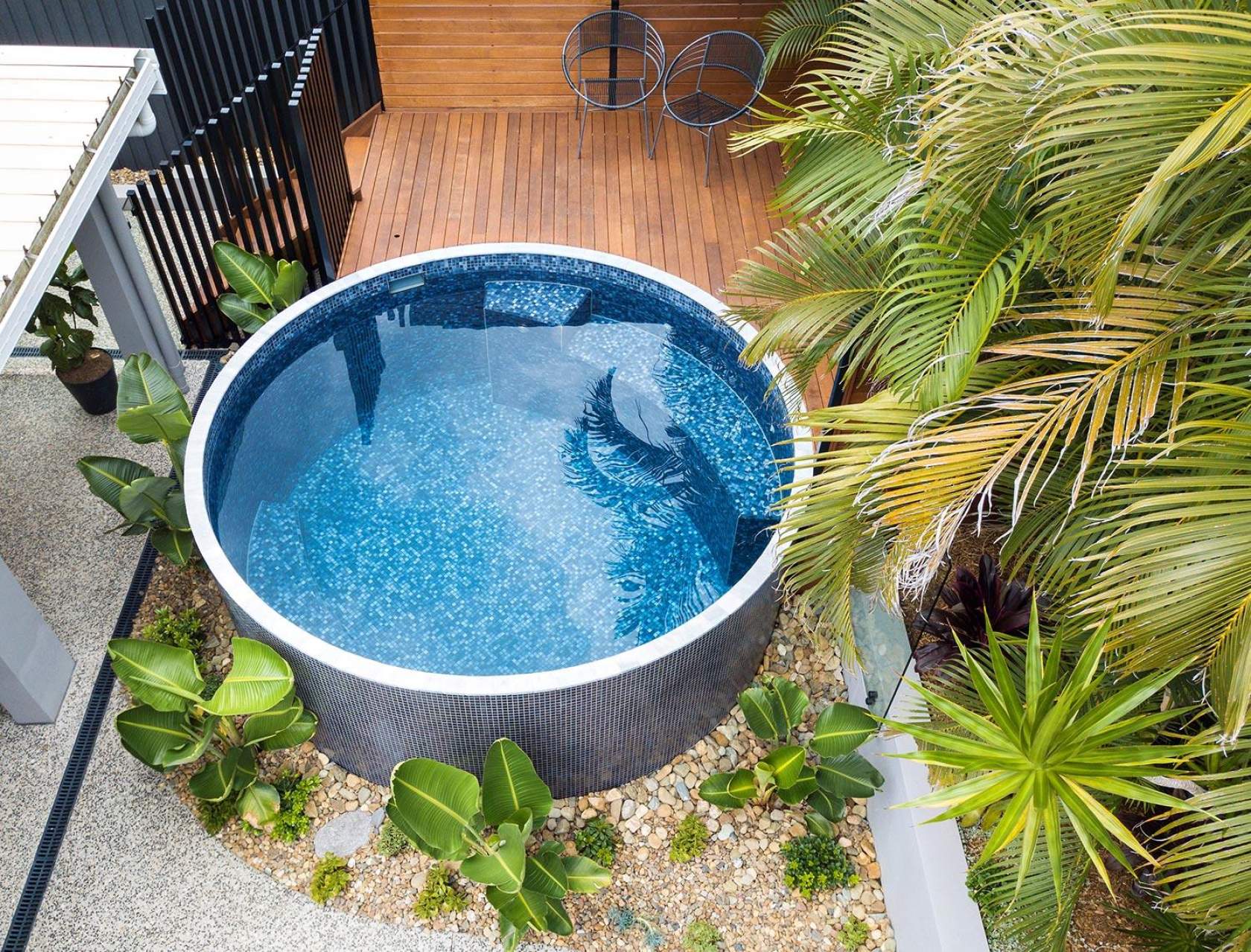 Nothing beats being able to cool off in your own backyard over summer and what plunge pools lack in space, they can make up for in amenity. While swimming is probably out of the question, plunge pools are generally easier and cheaper to maintain than their larger counterparts, making them an attractive option for heating and cooling. They also have the obvious advantage of being able to fit into most backyards.
SPOOLS (SPA POOLS)
Another great option where space is an issue, spa pools, also known as spools, offer the best of both worlds, with a spa area integrated into all or part of the pool. Known in some places as a cocktail pool, they can be a great solution for those who like to entertain or simply passively enjoy the water. Costs are generally a little less than a conventional pool and more than a dedicated spa.
PERIMETER OVERFLOW POOLS
For those who love the integrated look, perimeter overflow pools are a stylish choice. Designed in line with the edge of the deck, the water gives the impression of overflowing at all edges for a sleek, minimalist look. Water is captured and recycled in channels around the perimeter. Available in a variety of shapes and sizes, this style of pool can be pricey to install and run. For level sites though, it's the ultimate in swimming luxury.
NATURAL POOLS
While conventional pools are kept clean through the use of chemicals such as chlorine, natural pools rely on moving water (via a pump) and biological filters such as plants to maintain good water quality. It's a style gaining ground in Australia, where water quality is naturally quite high, making the move to natural pools easier, and more homeowners become interested in chemical-free options.
ABOVE GROUND POOLS
The great advantage of this style of pool is that excavation is often minimal, which means less disruption – and less cost. Strictly speaking, there's any number of materials available for construction, including fibreglass and concrete, but the above ground pool is probably most often associated with the old-school modular pool with liner from the likes of Clark Rubber.
GLASS WALLED POOLS
If you're looking to add a little drama to your home, a glass walled pool could fit the bill. Essentially an underwater 'window' in recent years, architects have specified glass walled pools to be viewed from inside the house, with the benefit of drawing natural light through the water into internal spaces. An engineer will specify the exact thickness required to take the weight of the water but expect it to be at least 12mm thick.
What is the best type of swimming pool to build?
The type of pool you choose will depend on your budget and the size and style of your yard. Fibreglass pools come in a range of shapes and sizes and are faster and easier to install than concrete, mainly because they are made on the factory floor and delivered to site. Concrete pools take longer to build but they are customisable and can be finished in high end materials. Often, the decision can get down to how long you intend to stay in your property in terms of how much you want to invest.
What is the most expensive part of a pool?
If you're talking about construction, excavation is often the big cost that takes owners by surprise. Make sure you understand excavation and tipping costs before signing a contract. Filtration, decking, tiling, fencing and landscaping can all add significant cost to the construction and installation of a pool. In terms of running costs, solar energy can be a good way to offset expenses.
What is a good size for a home swimming pool?
Again, this will depend on the size of your outdoor space, your lifestyle and the people who will use your pool. A family of four will have different needs to a couple who prefer to enjoy a dip at the end of a hot day. Choose a size that allows everyone to move around freely while keeping in mind that the larger the pool, the greater the time and money required to maintain it. Pool sizes in Australia have shrunk in recent years but popular sizes for family pools range from 7m by 3m up to 9m by 4m. Speak to your pool builder about the best – and safest – depth for your needs.
MOST POPULAR
Consumers are going to gravitate toward applications powered by the buzzy new technology, analyst Michael Wolf predicts
Chris Dixon, a partner who led the charge, says he has a 'very long-term horizon'