Best Cooling Fans To Help Beat The Heat in 2023
The weather is heating up and you're looking at ways to keep your cool. Whether you're renting or you own your home, fans are not only an effective way to feel more comfortable in the heat, they're more cost and energy efficient too. While a ceiling fan costs about 2c an hour to run, aircon costs between $1.49 and $1.94 per hour – a significant saving when cost of living pressures are on the rise.
The kind of fan you choose will depend on the size of the room you hope to cool, whether you rent or own and how much you have to spend. Where possible, ask for a demonstration of the fan and its features, taking note of aspects like noise and the speed at which the air is moving. You might also take note of details like lights, which can be annoying if you're running the fan while you sleep.
1. The Dyson Pure Cool Tower Fan, $599
This stylish looking device is a cooling fan and air purifier in one, with Air Multiplier™ technology and HEPA filter to provide a steady stream of cool, purified air. It also has an oscillation feature to help you send the air wherever you want it to go. The bladeless design also means it's a safe option around small children and pets.
2. AirDynamic 3D™ Connect Air Circulator, $299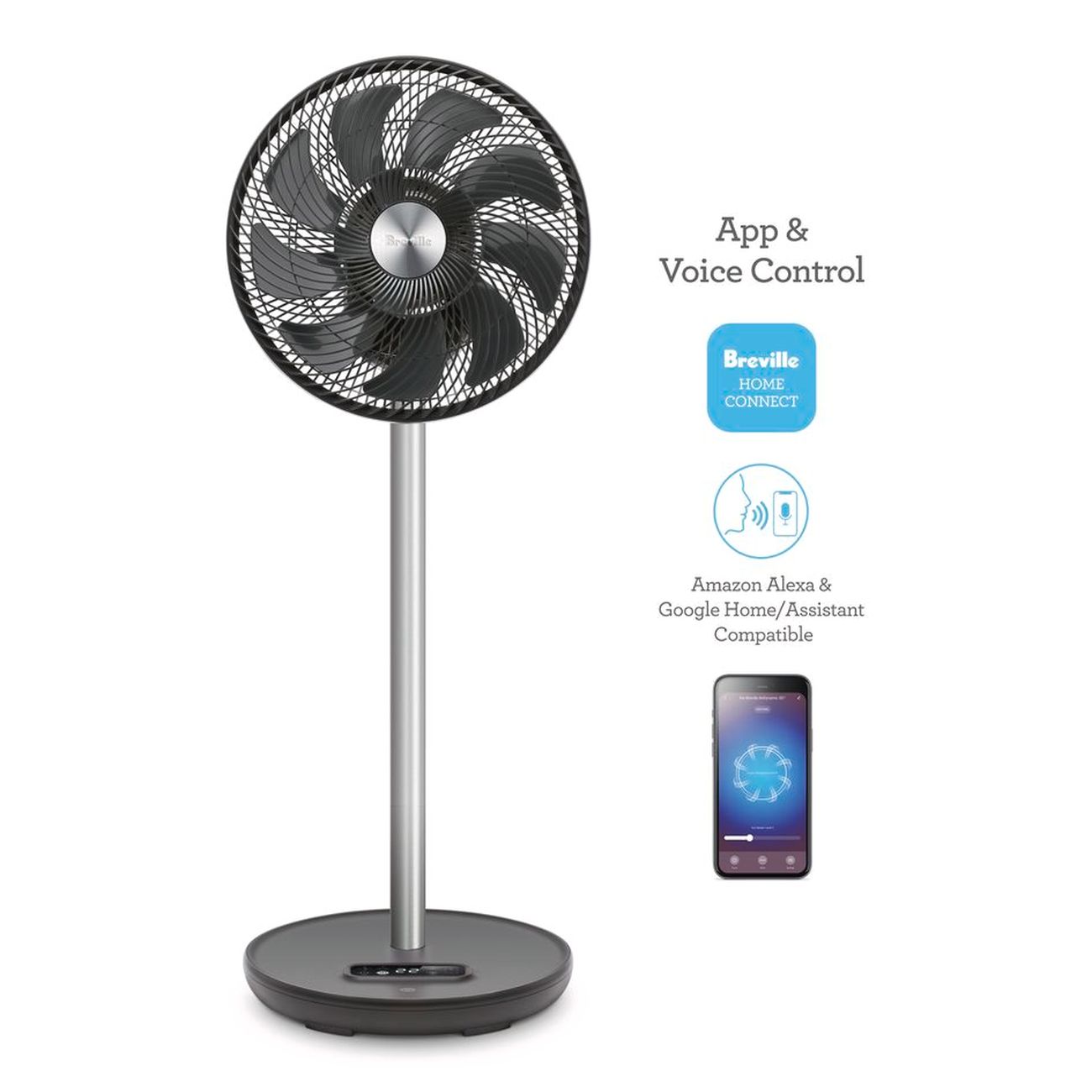 This compact pedestal fan stands just 36cm high and has been described as 'small but mighty' in reviews. With nine blades and eight speeds, it is Amazon Alexa and Google Home compatible, allowing users to control it via voice or their phone. It has automatic vertical and horizontal circulation for an even distribution of air.
3. Dimplex 50cm high velocity wall fan matte, $249
No room? No problem. This three-blade wall fan from Dimplex can be mounted wherever you need it for directional cooling air. It has three speeds and oscillation for even distribution of air and comes with a remote for ease of use.
4. DeLonghi Dual Oscillating Tower Fan, $199
There's a reason that this fan is a best seller. Standing almost a metre tall, it has three speeds and three wind modes and has an LED display that dims automatically after a minute – ideal when you're trying to sleep. It has dual 360 degree oscillation and can be set to one, two, four or eight hour settings if desired.
5. Omega Altise Tower Fan, $119
The slimline good looks of this tower fan make it a great choice where space is at a premium. Standing 120cm high, it has three speeds, a 12-hour timer and wide angle oscillation. The display goes dark once set and the unit runs quietly, making it ideal for bedrooms. At 4kg in weight, it's not much drama to move around if necessary.
6. Heller Metal Desk Fan, $69.95
The appeal of this desk fan is largely based on its cool retro looks, but it does all the things you want from a fan – it oscillates, has three blades and has an adjustable tilt. It's available in silver but we like the gorgeous glow of the copper finish.
7. Breville the PopFan Foldable and Rechargeable, $79.
You'll wonder how you managed without this compact, handy fan that can store up to 15 hours running time on low speed, or four hours on high speed. As the name suggests, this fan pops up when required offering 360 degree air delivery and four speeds. When you're done, it packs away for easy storage. Rechargeable via a USB port, it's a super convenient option for cooling down.
8. Fenici Pedestal Fan 40cm, $35
If everyone at your place is suffering through hot summer nights, this is the fan for you. At this price, you can buy one for every bedroom to create enough air flow to keep everyone comfortable as they sleep. The no frills option, it still has five powerful blades, three speeds, oscillation and can be adjusted up to 120cm high. It's also stylish enough to have around the house without creating clutter.
How can I make my room cooler without AC?
For the best results, take action before the room heats up. That means closing windows and drawing blinds to stop the summer heat coming in. Appliances can also add to how hot a room feels, so turn off anything you're not using. Cooling fans, whether they are ceiling, floor or desk lamps, will move warm air on and replace it with cooler air.
Is it better to sleep with AC or fan?
Whether it's better for you to sleep with the fan or the AC on will depend on a few factors. AC certainly costs significantly more to run than AC, so if money is a concern, a fan can be a better option. AC costs more to run the cooler you want to go, so running the fan with the AC can create the best of both worlds. AC can also remove some of the moisture in the air. Depending on where you live, and the levels of humidity, that could be a benefit or a problem.
Do cooling fans actually work?
Fans work by moving air around. They make people feel cooler by cooling the sweat on their skin and moving warm air on. An AC unit, on the other hand, reduces the air temperature in the room. Fans can be extremely effective during heatwaves and in areas with high humidity, as they reduce the moisture in the air, effectively making spaces feel cooler.
MOST POPULAR
Consumers are going to gravitate toward applications powered by the buzzy new technology, analyst Michael Wolf predicts
Chris Dixon, a partner who led the charge, says he has a 'very long-term horizon'
Related Stories
Going warm and fuzzy for the 2024 Pantone Colour of the Year
Prepare yourself for the year of the peach
Pantone has released its 2024 Colour of the Year — and it's warm and fuzzy.
Peach Fuzz has been named as the colour to sum up the year ahead, chosen to imbue a sense of "kindness and tenderness, communicating a message of caring and sharing, community and collaboration" said vice president of the Pantone Color Institute, Laurie Pressman.
"A warm and cosy shade highlighting our desire for togetherness with others or for enjoying a moment of stillness and the feeling of sanctuary this creates, PANTONE 13-1023 Peach Fuzz presents a fresh approach to a new softness," she said.
The choice of a soft pastel will come as little surprise to those who follow the Pantone releases, which are often a reflection of world affairs and community mood. Typically, when economies are buoyant and international security is assured, colours tend to the bolder spectrum. Given the ongoing war in Ukraine, the Israeli-Gaza conflict and talk of recession in many countries, the choice of a softer, more reassuring colour is predictable. 
"At a time of turmoil in many aspects of our lives, our need for nurturing, empathy and compassion grows ever stronger as does our imaginings of a more peaceful future," she said. "We are reminded that a vital part of living a full life is having the good health, stamina, and strength to enjoy it."
The colour also reflects a desire to turn inward and exercise self care in an increasingly frenetic world.
"As we navigate the present and build toward a new world, we are reevaluating what is important," she said. "Reframing how we want to live, we are expressing ourselves with greater intentionality and consideration. 
"Recalibrating our priorities to align with our internal values, we are focusing on health and wellbeing, both mental and physical, and cherishing what's special — the warmth and comfort of spending time with friends and family, or simply taking a moment of time to ourselves."
Each year since 2000, Pantone has released a colour of the year as a trendsetting tool for marketers and branding agents. It is widely taken up in the fashion and interior design industries, influencing collections across the spectrum. 
MOST POPULAR
Consumers are going to gravitate toward applications powered by the buzzy new technology, analyst Michael Wolf predicts
Chris Dixon, a partner who led the charge, says he has a 'very long-term horizon'
Related Stories