10 Best Sofas That Will Elevate Your Living Room
Think of home, and think of…the couch. Family is important, sure, but a couch? That spells relax with a capital Lax. Sometimes outrageously expensive, sometimes surprisingly affordable. Check out are our top 10 sofas where you are sure to find the one that speaks your lounging language.
The gorgeous, curvaceous Atelier from Coco Republic is coolly romantic in the way it wraps around you. Curves are so relaxing, and when they look this chic you'd expect to find it in an apartment on Haussman. The textures on offer are very on trend, and the optional pillows elevate the designer concept to true European elegance.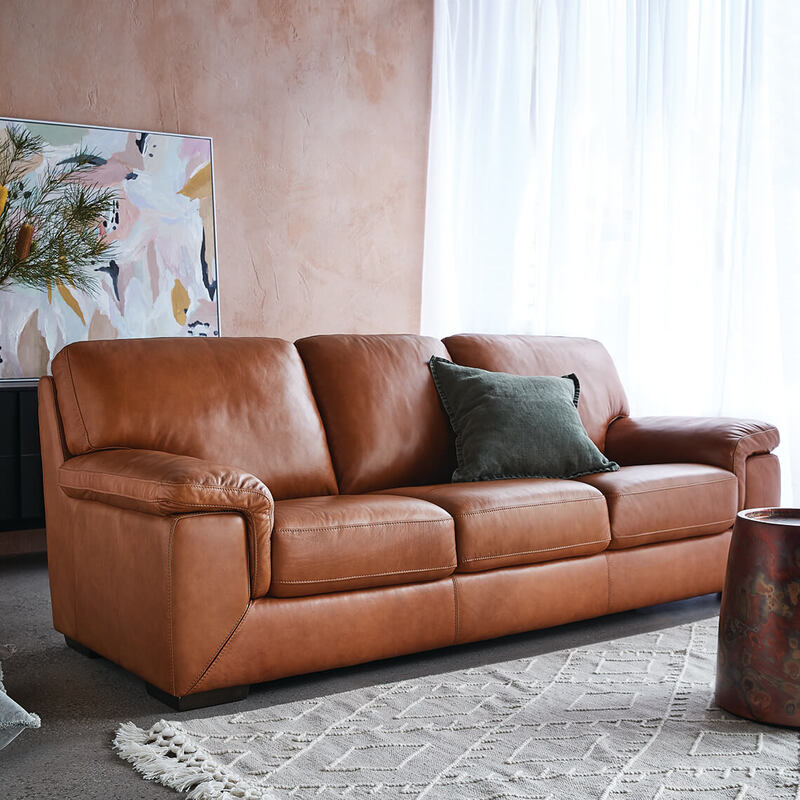 Putting your feet up is never easier than with a little electrical assistance – take the Barret Leather sofa from Freedom Furniture. A strong piece from a design point of view, with leather stitched to perfection, and available in an amazing range of colours. It just needs a little extra space to lay on down.
For a home that salutes colour and energy, you could not miss trying out the Wilkes Modular by Herman Miller. A mid-century style that is at once light on its legs, while packing a huge post-modern punch. Walking in the door and seeing this in your apartment, well, you'd be so happy to be home.
Described as a 'floating island with square lines' the Horizonte from Marcio Kogan/Studio mk27 is a sophisticated take on lounge furniture. It really does appear to float, the idea extending to the sympatico customisation of a built-in coffee table extension. This is James Bond suave. You could see it fitting like a glove into an ultra-modern minimalist, or eccentric maximalist décor.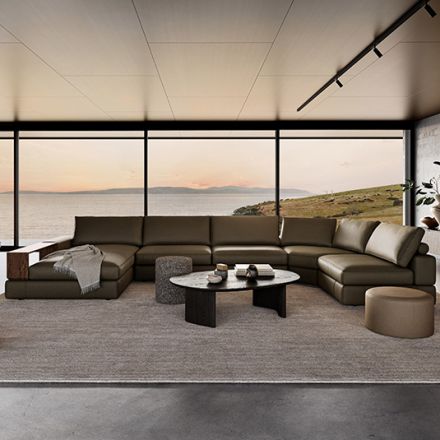 The flagship design of the King Furniture line, the Jasper is perhaps the father of all modular design. In a range of sizes, the familiar timber armrest-tables look as clever as ever, and now they offer even more 'add ons' such as a wireless charging table. Cool. Very deep, very springy, they have lasted this long because they fit into every lifestyle from beach house to townhouse.
Not everyone can afford the moon when it comes to sofas – but do not be discouraged. Fantastic Furniture has a really smart looking three seater with chaise that has 'pulled in' seat stitching, which adds interest, and a choice of timber or metal legs. Easy on the eye and the pocket, it is a non-precious, relaxed sofa solution.
Rarely does one want to see something ageing – but the simple, dramatic lines of the leather Mateo sofa from Coco Republic are only going to look more beautiful in 10 years' time. This is a confident design, with generous stuffing – especially on the arms – it would be a perfect one to fall asleep on while bingeing on Netflix. Pewter or Taupe colours – both richly rewarding.
Ultra-modern is the best way to describe the angular, unique silhouette of the Lounge Life's Lexington. One of the few sofas available that uses its mass to advantage, making a rather monumental statement. It has windswept arm rests too – perfect for lying back doing Wordle while the news is on. Combined with the adjustable headrests, this is multi-option sofa available in fabric or leather.
The cane detailing (which wraps around the entire piece) in the Castlery Lucia Cane sofa adds so much character that the piece just has to become a focal point in any room. The combination of the cane with the black detailing gives it an organic, breezy kind of vibe; with the potential to enhance an Asian themed  or beach house décor. If you're looking for something different, yet stylish, it's a definite go-to.
Here's a sofa that says family, friends, dogs and cats. In short, it says relax and have fun. From Aussie brand Koala, the five to seven seater looks at its absolute best in gum tree green, as the timber feature panels (which are actually storage drawers) and matching feet just work so well with the forest theme. Big robust fluffy cushions, and a huge ottoman on offer, this is the one for those who just love to plonk down and chill out.
How can you tell if a sofa is good quality?
In a word: framing. A good quality frame will ensure your sofa will not only provide comfort but will last for 10 years or more. While solid timber framing is standard, there is also steel framing available. Don't be afraid to ask to lift the sofa to give you an idea of weight, which is an indication of the quality of the framing.
What is the average price for a good quality sofa?
Everyone's budget is different and you can certainly get excellent value for money in the secondhand sofa market. For new sofas, expect to pay upwards of $4000 to $5000 for a good quality modular sofa and $2,000+ for a two or three-seater that is made to last.
What sofas are the most durable?
If you're talking about upholstery, it's leather all the way. Easy to wipe down and able to take the hard knocks, leather sofas tend to age better than fabric sofas, making them ideal for family environments. For framing, solid timber or steel frames last extremely well. When purchasing, talk to your retailer about reupholstery services when the time comes. It's a good indication of whether they are prepared to stand behind their product over time.
What are the best quality sofas to buy?
This is totally subjective and will depend on what you value, and how much you can budget for. Perhaps the easiest way to seek high quality is to ask about warranties. Look for sofas that have at least a 10-year warranty. In terms of coverings, genuine leather and natural fabrics such as linen and cotton offer a superior look and feel.
What should you look for when choosing a sofa?
Beyond choosing the right framing and fabrics for your sofa, shape and being fit for purpose is everything. If you have a family living space to fill, a modular sofa where everyone can spread out is ideal. For smaller apartment spaces, a pair of two-seater sofas might be a better option. Make sure you measure carefully, including the entranceways, before you buy.
MOST POPULAR
Chris Dixon, a partner who led the charge, says he has a 'very long-term horizon'
Americans now think they need at least $1.25 million for retirement, a 20% increase from a year ago, according to a survey by Northwestern Mutual
Related Stories
Italy, Land of Uncollected Garbage, Combines Running With Trash Pickup
At the World Plogging Championship, contestants have lugged in tires, TVs and at least one Neapolitan coffee maker
GENOA, Italy—Renato Zanelli crossed the finish line with a rusty iron hanging from his neck while pulling 140 pounds of trash on an improvised sled fashioned from a slab of plastic waste.
Zanelli, a retired IT specialist, flashed a tired smile, but he suspected his garbage haul wouldn't be enough to defend his title as world champion of plogging—a sport that combines running with trash collecting.
A rival had just finished the race with a chair around his neck and dragging three tires, a television and four sacks of trash. Another crossed the line with muscles bulging, towing a large refrigerator. But the strongest challenger was Manuel Jesus Ortega Garcia, a Spanish plumber who arrived at the finish pulling a fridge, a dishwasher, a propane gas tank, a fire extinguisher and a host of other odds and ends.
"The competition is intense this year," said Zanelli. Now 71, he used his fitness and knack for finding trash to compete against athletes half his age. "I'm here to help the environment, but I also want to win."
Italy, a land of beauty, is also a land of uncollected trash. The country struggles with chronic littering, inefficient garbage collection in many cities, and illegal dumping in the countryside of everything from washing machines to construction waste. Rome has become an emblem of Italy's inability to fix its trash problem.
So it was fitting that at the recent World Plogging Championship more than 70 athletes from 16 countries tested their talents in this northern Italian city. During the six hours of the race, contestants collect points by racking up miles and vertical distance, and by carrying as much trash across the finish line as they can. Trash gets scored based on its weight and environmental impact. Batteries and electronic equipment earn the most points.
A mobile app ensures runners stay within the race's permitted area, approximately 12 square miles. Athletes have to pass through checkpoints in the rugged, hilly park. They are issued gloves and four plastic bags to fill with garbage, and are also allowed to carry up to three bulky finds, such as tires or TVs.
Genoa, a gritty industrial port city in the country's mountainous northwest, has a trash problem that gets worse the further one gets away from its relatively clean historic core. The park that hosted the plogging championship has long been plagued by garbage big and small.
"It's ironic to have the World Plogging Championship in a country that's not always as clean as it could be. But maybe it will help bring awareness and things will improve," said Francesco Carcioffo, chief executive of Acea Pinerolese Industriale, an energy and recycling company that's been involved in sponsoring and organizing the race since its first edition in 2021. All three world championships so far have been held in Italy.
Events that combine running and trash-collecting go back to at least 2010. The sport gained traction about seven years ago when a Swede, Erik Ahlström, coined the name plogging, a mashup of plocka upp, Swedish for "pick up," and jogging.
"If you don't have a catchy name you might as well not exist," said Roberto Cavallo, an Italian environmental consultant and longtime plogger, who is on the world championship organizing committee together with Ahlström.
Saturday's event brought together a mix of wiry trail runners and environmental activists, some of whom looked less like elite athletes.
"We like plogging because it makes us feel a little less guilty about the way things are going with the environment," said Elena Canuto, 29, as she warmed up before the start. She came in first in the women's ranking two years ago. "This year I'm taking it a bit easier because I'm three months pregnant."
Around two-thirds of the contestants were Italians. The rest came from other European countries, as well as Japan, Argentina, Uruguay, Mexico, Algeria, Ghana and Senegal.
"I hope to win so people in Senegal get enthusiastic about plogging," said Issa Ba, a 30-year-old Senegalese-born factory worker who has lived in Italy for eight years.
"Three, two, one, go," Cavallo shouted over a loudspeaker, and the athletes sprinted off in different directions. Some stopped 20 yards from the starting line to collect their first trash. Others took off to be the first to exploit richer pickings on wooded hilltops, where batteries and home appliances lay waiting.
As the hours went by, the athletes crisscrossed trails and roads, their bags became heavier. They tagged their bulky items and left them at roadsides for later collection. Contestants gathered at refreshment points, discussing what they had found as they fueled up on cookies and juice. Some contestants had brought their own reusable cups.
With 30 minutes left in the race, athletes were gathering so much trash that the organisers decided to tweak the rules: in addition to their four plastic bags, contestants could carry six bulky objects over the finish line rather than three.
"I know it's like changing the rules halfway through a game of Monopoly, but I know I can rely on your comprehension," Cavallo announced over the PA as the athletes braced for their final push to the finish line.
The rule change meant some contestants could almost double the weight of their trash, but others smelled a rat.
"That's fantastic that people found so much stuff, but it's not really fair to change the rules at the last minute," said Paul Waye, a Dutch plogging evangelist who had passed up on some bulky trash because of the three-item rule.
Senegal will have to wait at least a year to have a plogging champion. Two hours after the end of Saturday's race, Ba still hadn't arrived at the finish line.
"My phone ran out of battery and I got lost," Ba said later at the awards ceremony. "I'll be back next year, but with a better phone."
The race went better for Canuto. She used an abandoned shopping cart to wheel in her loot. It included a baby stroller, which the mother-to-be took as a good omen. Her total haul weighed a relatively modest 100 pounds, but was heavy on electronic equipment, which was enough for her to score her second triumph.
"I don't know if I'll be back next year to defend my title. The baby will be six or seven months old," she said.
In the men's ranking, Ortega, the Spanish plumber, brought in 310 pounds of waste, racked up more than 16 miles and climbed 7,300 feet to run away with the title.
Zanelli, the defending champion, didn't make it onto the podium. He said he would take solace from the nearly new Neapolitan coffee maker he found during the first championship two years ago. "I'll always have my victory and the coffee maker, which I polished and now display in my home," he said.
Contestants collected more than 6,600 pounds of trash. The haul included fridges, bikes, dozens of tires, baby seats, mattresses, lead pipes, stoves, chairs, TVs, 1980s-era boomboxes with cassettes still inside, motorcycle helmets, electric fans, traffic cones, air rifles, a toilet and a soccer goal.
"This park hasn't been this clean since the 15 century," said Genoa's ambassador for sport, Roberto Giordano.
MOST POPULAR
Chris Dixon, a partner who led the charge, says he has a 'very long-term horizon'
Americans now think they need at least $1.25 million for retirement, a 20% increase from a year ago, according to a survey by Northwestern Mutual
Related Stories